Reece's Rainbow is a website dedicated to helping children with Down syndrome find adoptive homes. Worldwide, children with Down syndrome are viewed as worthless, shameful, and completely without value. In many countries, there are simply no resources whatsoever for raising a child with special needs. Very often, these children end up in orphanages, where they spend their childhoods without love or family. Sometimes they lack even basic nutrition, fresh air, and necessities.

Thankfully Reece's Rainbow has stepped in to offer hope. And each year at Christmas, they have a unique program to help raise money for each child's adoption fund. That way, when an adoptive family is found, there's a starter fund to get them going.

This year, in honor of Cade, I decided I could help a child find her forever family. A friend sent me this photo and I couldn't help but see the resemblance to Cade.


Rosie was born in August 2012. She has Down syndrome and a heart defect that was repaired by surgery in March 2013, the same month Cade was born. She's often sick with fevers and bronchitis. At the time of her listing, she was working to learn to roll over, just as Cade is now.
Rosie had my heart and now for the next 2 months, she'll have my help as well. My goal is to raise $1000 for Rosie's adoption fund. We aren't adopting her, just helping to start her fund for her future adoptive parents. And who knows, maybe someone who sees her because of my efforts will fall in love and she'll find her forever home with one of YOU.
There are lots of ways to help.
See update at bottom
.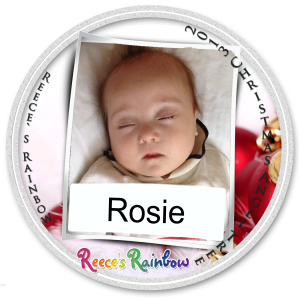 Update: On November 5, 2013, I received word from Reece's Rainbow that Rosie had passed away in her orphanage. She did find her forever home, though not quite as I imagined. Reece's Rainbow allowed me to choose who would receive Rosie's funds, and I've chosen another little girl named
Janie
. I won't be fundraising for Janie, but she'll get a nice start to her adoption grant thanks to all of you.